These are pictures of Gharri Pastoralist and their invited guests gathering at Hudet for International Pastoralist Conference of 2007.
On the way
Two days by bus from Addis Ababa to Hudet.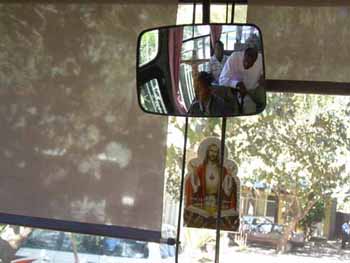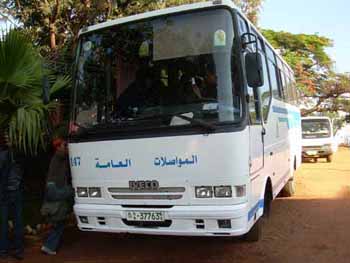 The first day, and part of the second: green! green! green!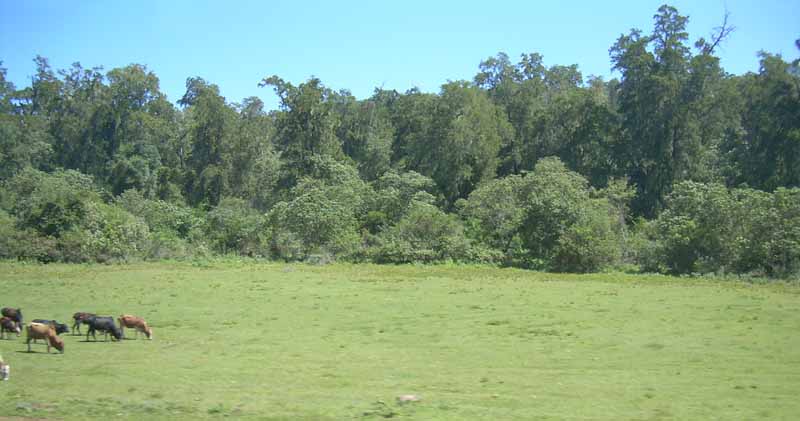 Then the soil starts turning a colour I know very well ...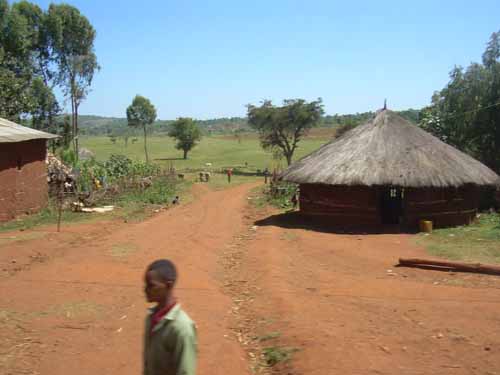 ... and by the time we're going to arrive, we might as well be driving through Niger.

---
The grounds
The gathering grounds were well prepared. Infrastucturally everything was arranged in a clever, simple and solid way, by an organization called 'Ethiopia Origins Tour & Travels' or something. This reception desk was one of the results. Le Festival au Désert and this organization could exchange many a useful tip.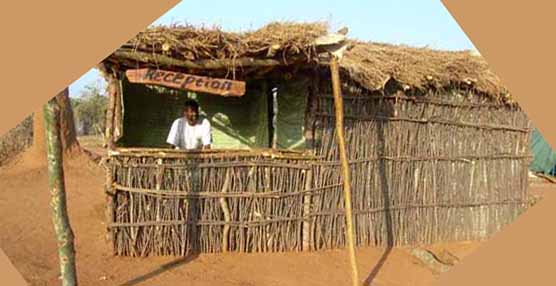 Installed, eaten, met lots of people, a good night's sleep ... And then a little tour.
Print the picture below, cut it, put the ends to your ears and look around with me. The only piece missing in the circle, that's where the tents were with mine among them. From right to left: the tents of the PCI people who had arrived earlier; the kori / wadi - well a bed of such a river that only functions in the rainy season; then, to the left of that tree, behind Nicola (of WISP), a bunch of bushes with the meeting grounds behind them; to the left of that such a bizarre, extremely narrow and high ant heap; than some Nature, and back to the kori.

Here we have entered the meeting grounds. There were about four to five hundred participants, and everyone - also the gouvernment's and embassies' representatives and so - was seated on these mats. Only the chairman and his consorts were on chairs.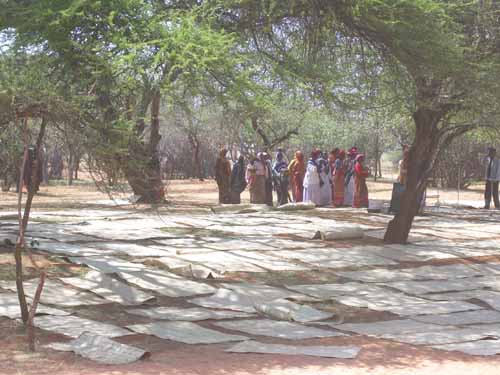 Eum ... here it says undoubtedly that it's so nice that from November 28 till December 3 near the village of Hudet in the Liban zone (in the Somali-regio in Ethiopia, notr) in Africa this gathering took place.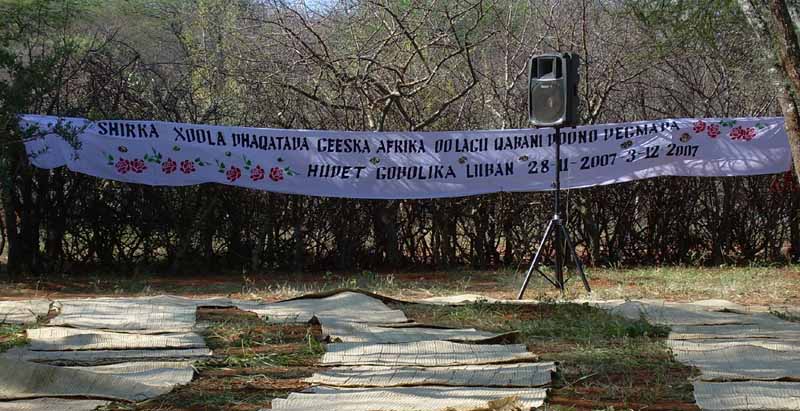 On the other side of the meeting grounds was a clearing with a small kitchen (also built with branches and twigs) where hot drinks were served during morning and afternoon breaks: delicious coffee, or typical tea with cineamon and loooots of sugar, and milk for those who wanted it.
To the right of that, there was another meeting place, that I myself have never seen in use. But apart from the plenary meetings, there were also non-plenary meetings, late in the evening and horribly early in the morning (did I hear 'four o'clock'? aye!)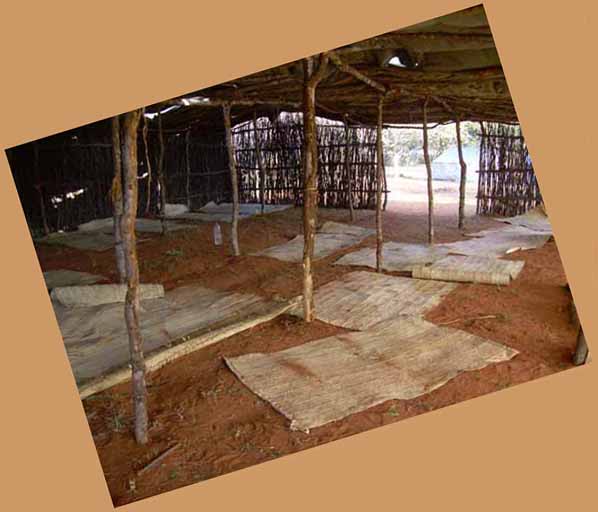 Strolling on ... On both sides of the kori stayed the delegations of all 52 districts of the Somali region, plus Somali delegations from Somalia, Somaliland, Kenya and Djibouti, plus delegations from the neighbouring regions in Ethiopia, Oromia and Afar (and I might forget one). For each delegation, one or two of these huts had been provided, and army tents. Then there was a place where the representatives of international organisations and embassies etc stayed.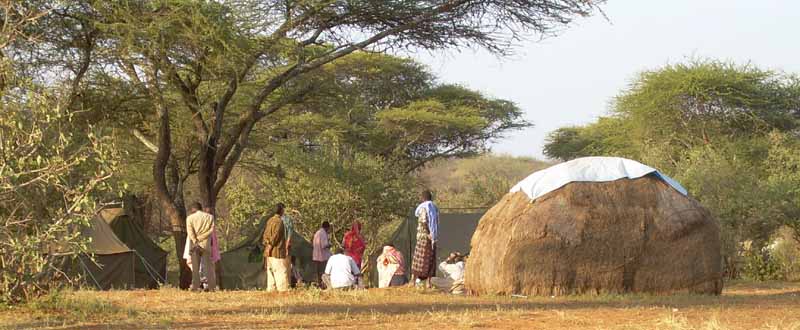 There were four restauration units. These were each composed of a long dining room with twig-benches lining the walls ...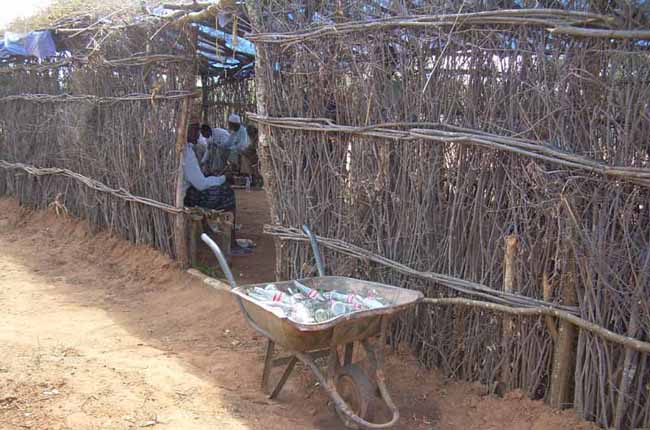 ... an entry in one side, opposite a kitchen with distribution window; and two exits on the other side, where outside you found a few tripods with a bucket on top with a tap in it, so you could wash your hands after your meal. People eat without cutlery over there, also spaghetti. Do try at home! And they drink ... well.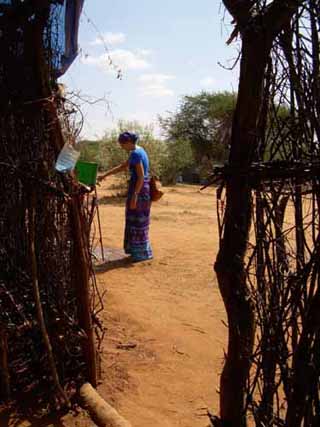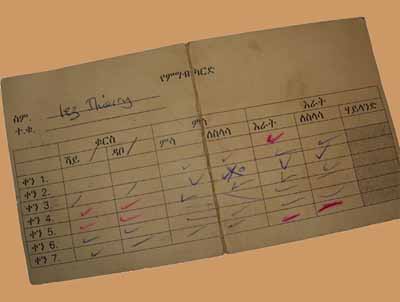 All participants had a meal card. Each time someone next to the kitchen indicated that you had had your meal and drink (tea in the morning, a - soft drink at other times).

At Sfinks, this would be 'the construction kitchen'. Also during the event the infrastructure team had its meals here, with some others. In the evenings they had a big fire and assorted merry-making.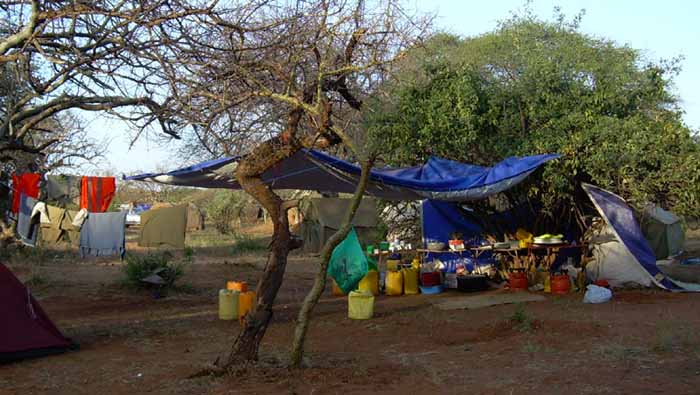 | | |
| --- | --- |
| Near the reception desk was a shop with mainly soft drinks, sigarets and lighters. | Behind the reception desk: the equipment tent. In the evening all these lamps were placed about the site, and they burned quite long. That came in handy when visiting a sanitary installation unit. There were 'showers' here and there, cabins without a roof, made of strong canvas with a bucket full of water in them - all day long you could see two guys with a branch between them with full buckets on it. There were also cabins with a bucket of sand in a corner, and a deep hole in the middle, with a solid board with a hole in it over it. That's all you really need. |
| | |
The last day: many people are leaving already, the crew starts gathering things. Me too, I had had such a matress.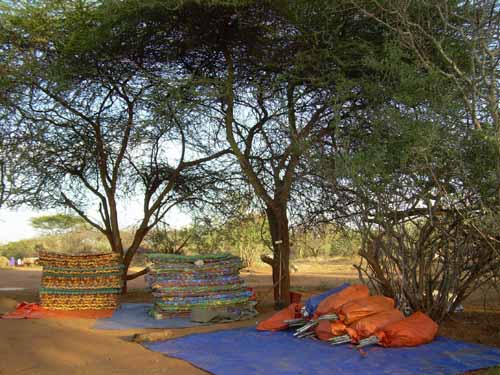 ---
The meetings
From the kori to the meeting grounds.

Onto the grounds ...

Side view ...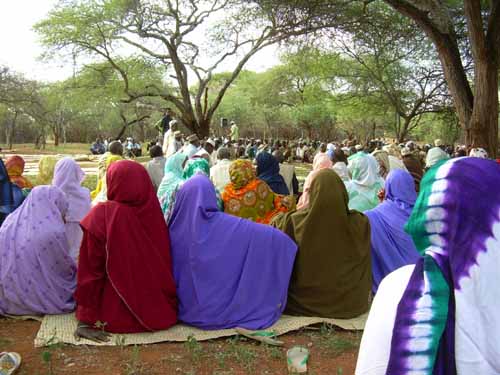 Our host, Sultan Mohammed Haji Hassan Gababa.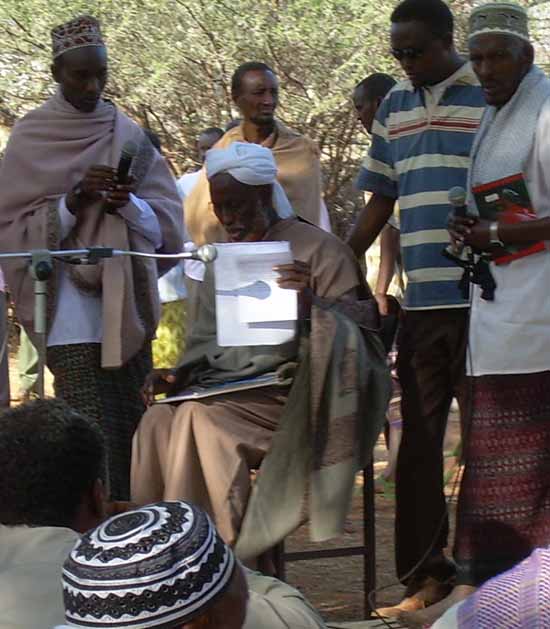 Lots of women, and they hadn't come with their husbands, to wash his socks. Somali ladies take an actif part in public life and often took the floor. When the men were beating about the bush, the women made things move. Bam!
The women manage the finances of the household here. "If our men start fighting, we should stop giving them money untill they drop it."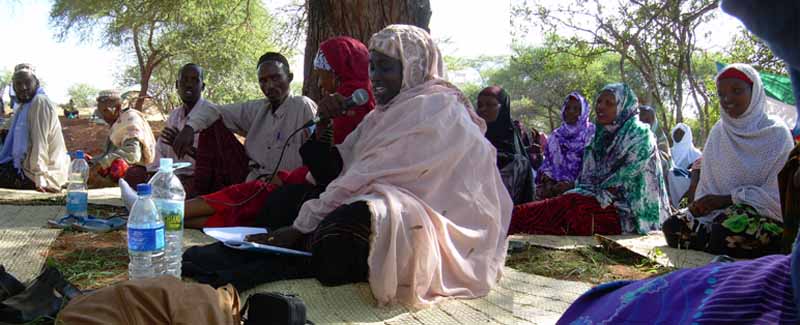 Because several peoples were there, after every two or three sentences a translation followed through the mircophone - into Oromia, for example. On the grounds were a few translators whom we could join for a translation into English. A lot of subtilities of the language - hidden meanings, old poetical style - were lost on me.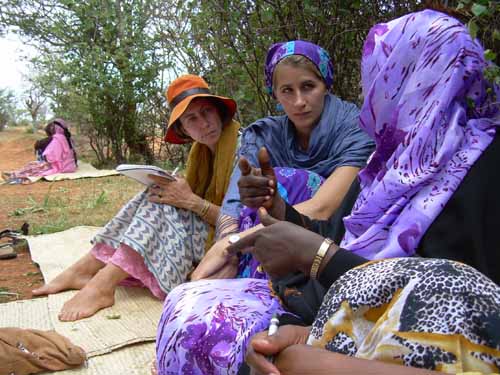 At the very end: after a summary by the sultan, he asks everybody who agrees to raise a hand. Also Nicolas from Brussels (that guy over there with his black cap) and I spontaneously raised our hands - and then Nicolas realized it was a unique moment for a picture! Me, I was just too late, because at first, all hands were raised. Nicolas, don't forget to send me one like that, will you?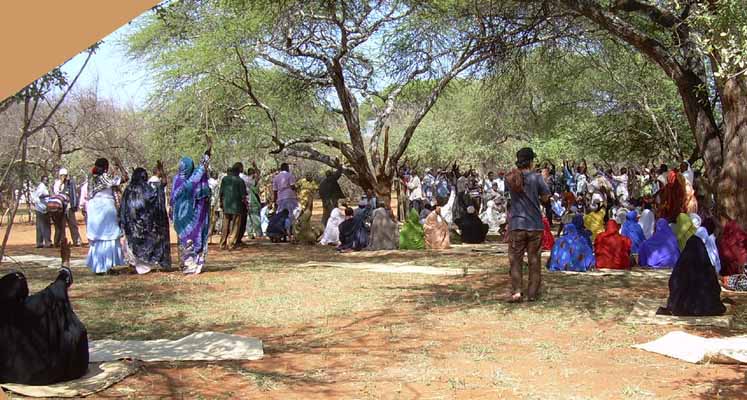 ---
Singing and dancing
There were all kinds of shows at noon, but I usually took my mat and notes and went a bit further away into the bush then, to have a bit of quiet and digest all the impressions. On the last day, I was there. Something very traditional was going on there, everybody could join.
The ladies clap their hands, sing some, but don't exactly jump about.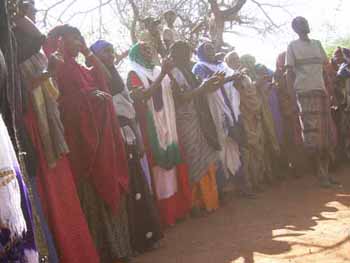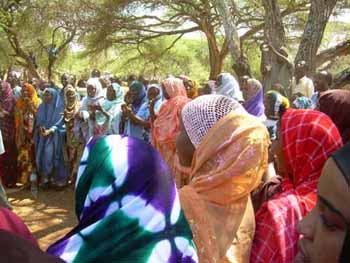 The only instrument is played by a woman.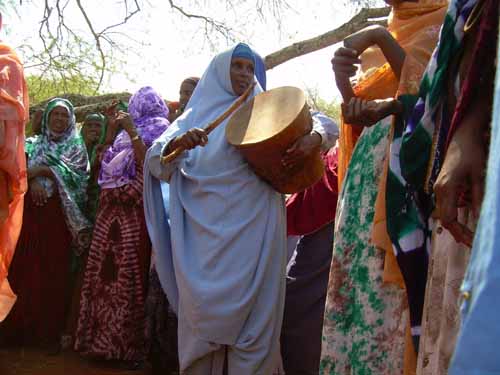 The men dance.
When I showed pictures of Wodaabe men, made up for the dance, or just without shesh so you can see their braids, often I got the reaction: "Are those MEN?" In Niger, on the other hand, such a wrap-around skirt is very typically female.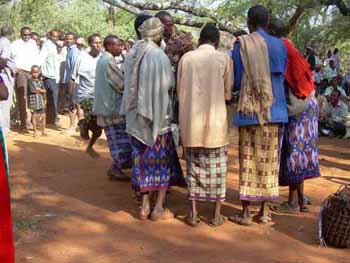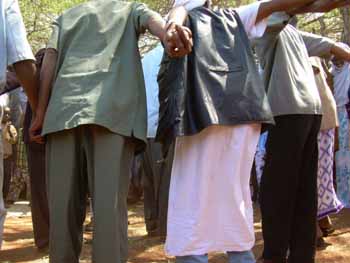 One dance was sent away by the sultan - because the next thing was on, I thought: because 'these things can get really out of hand', someone told me afterwards. In this group, there was indeed one young man - he's in the first ladies' picture, on the right - who was pretty much in trance. When someone came to suddenly near him, he reacted in a very aggressive way; sometimes one of the girls faked running away, and then he immediately went after her; sometimes he just suddenly ran off in a random direction. Every time the other guys laughinly kept him in check or retreived him to the dance.
---
Like / not like Niger ...
Tiens! This looks like a saga!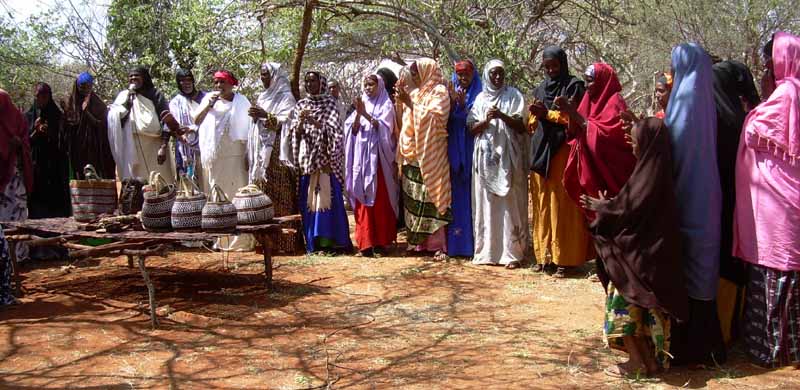 When looking for a shady spot for my midday break, I found these ...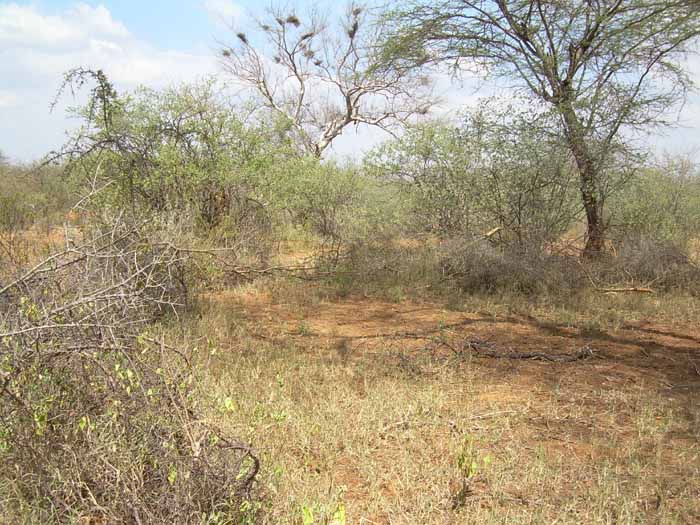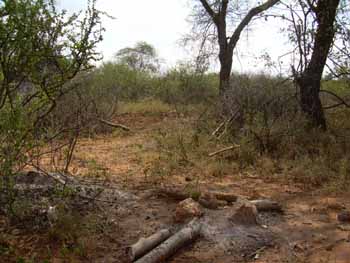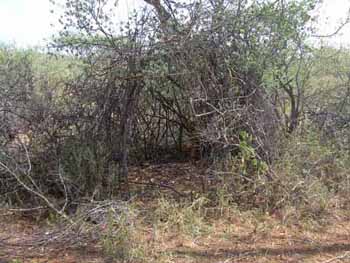 | | |
| --- | --- |
| I've often seen umbrellas with this pattern in Niger, but never an umbrella-hat. | In Niger there are all sorts of water recepients with tissu sewed around them. When this tissu is moistened, the water inside stays very cool. Here some toilet paper was wrapped around a plastic bottle and moistened, with the same result. Where we were sitting at that time, a whole bucket of water was sprinkled on the earth so that the wind blew over it. That gave a cooling effect too. |
| | |
Typical way of sitting comfortably during the meetings: scarf bound around back and legs.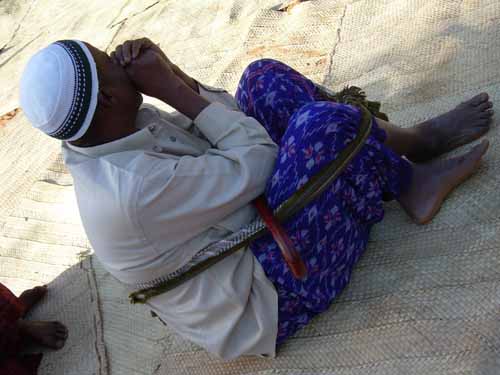 'Chat' is what this is called here. Chew, chew, chew, some people start at noon and go on all day. They only take the young leaves, the rest is thrown away. Some pound them, and chew the resulting mash.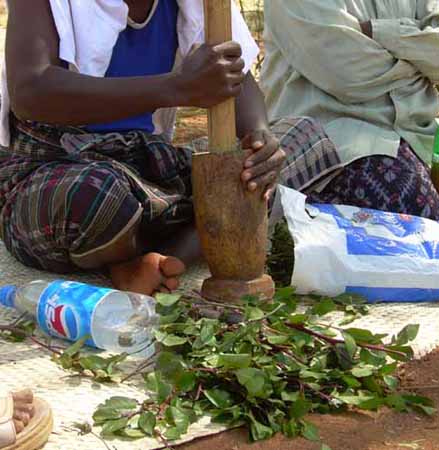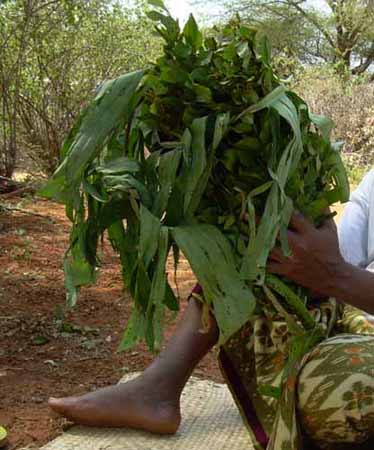 Gratifying vegetal news: I saw lots of enormous aloe vera plants! I have some smaller ones in my garden in In-Gall, and I was thinking about putting them here and there in the bush, so the nomads have them at hand. But so far I didn't know whether they would survive without being tended. If they do here, then maybe they will in the Niger bush too.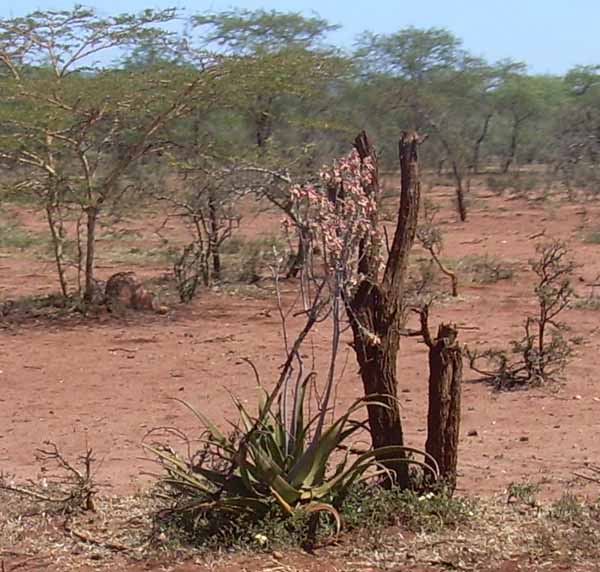 ---